Customer Reviews
Write a Review
Ask a Question
Wasn't delivered to me
I wish i could try the product but it wasn't delivered due to stock unavailability.
07/17/2022
Yi H.

Singapore
Repeat buys, excellent!
Delightful!
02/01/2022
Anonymous

Singapore
Yummy sun biscuit and 凤梨酥
Excellent/prompt n friendly service.
10/30/2021
Anonymous

Singapore
10/29/2021
Shiew S.

Singapore
As good as ever
Delivery is fast. Ordered 2 boxes of sun cakes and 1 box of green onion biscuits on 27 Oct evening and received my order the next day evening. Received a packet of chips and 2 tea bags as free gifts. Third time purchase. Am glad fresh sun cakes are available to be purchased in Singapore. Unfortunately, prices have gone up compared to the last two times I ordered.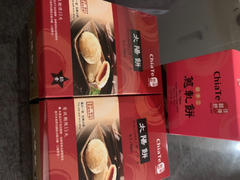 10/24/2021
Anonymous

Singapore
ChiaTe Sun Cake
Smooth Payment & Fast Delivery. Will buy again!
10/14/2021
Anonymous

Singapore
ChiaTe Taiwan Sun Cake
I have always loved this. Glad is now available in SG. Prompt delivery from the team. Thank you!
08/26/2021
Ivy H.

Singapore
ChiaTe Sun Cakes
Extremely pleased n beyond satisfied. Prompt delivery and product fresh and magnificently yummy. Thankful for d quick delivery. All calls Re queries were swift n promptly handled. Awesome service to the core.
07/29/2021
Shiew S.

Singapore
Yummy and fresh sun biscuits
This is my second time ordering Chia Te sun biscuits from Gourmet Grocery. Delivery is fast with the biscuits reaching me the next day I placed my order.
07/21/2021
Jaslyn A.

Singapore
Best Service Ever Had!!
My husband and myself were totally overwhelmed by KT's excellent service! We bought one box of sun cakes, unfortunately most of them actually broke into halves. We informed KT, and his responsed was very fast! He was even willing to resend a new box to us on a next working day, which we rejected in then end. We felt paisey to accept it, and told him that we are fine with the broken box, and appreciate his kindness. Will definitely share about your Co and the excellent service you rendered to us. Thank you KT!
05/25/2021
Anonymous

Singapore
05/21/2021
Joan G.

Singapore
Fast delivery. Thank you!
05/18/2021
Seehui T.

Singapore
Suncake
Fast delivery! Good!
05/18/2021
Shiew S.

Singapore
Great taste :)
The milk taste is just nice, not too overwhelming. Most importantly, the sun cakes are freshly made and delivered.
05/15/2021
Evelyn L.

Singapore
Sun cake
Excellent as well. The cakes are very fresh
05/12/2021
Anonymous

Singapore
ChiaTe 佳德 Taiwan Bakery Sun Cake 6 pcs
Delivery was fast and the items very well packed. The biscuits have a long due date and fresh. Thank you!